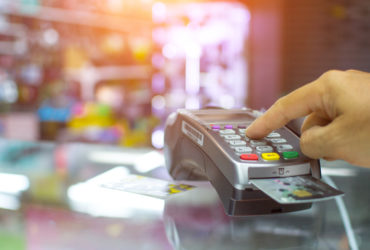 The convenience store market is a highly competitive space. In addition to worrying about what the c-store across the street is doing, retail business owners must be aware of other retailers. Grocery stores and food mart face decreasing market share because of online retailers, so they're scrapping for every customer they can attract.
The retail industry experts at Alberta Payments & Technology have gone through many of the same challenges you face. Our payment processing services are designed by retailers for retailers. Processing sales transactions will be quick and easy for your customers, so they can have a positive experience in your c-store and be on their way. And the next time they need to make a quick shopping trip, they'll think of your c-store first.
C-stores faring well in an ever-changing retail market
The dire predictions about online retailers bringing about an end to brick-and-mortar stores was clearly overblown. In fact, online retailers are now invading the retail space. Amazon's New York City bookstore and Amazon Go stores clearly indicate brick-and-mortar stores are here to stay. Why else would an online giant venture into the market?
Pharmacies, wholesalers and mass merchandisers have been in decline recently; however, c-store trends remain favorable for business owners. C-store chains have been adding stores over the past decade, and the retailers with the most locations belong to convenience store industry.
Even though online retailers aren't causing c-stores to shutter their doors in large numbers, the impact on the broader retail industry is something c-store owners should watch. If a nearby store closes, that can impact foot traffic patterns around your c-store. Keep an eye on your retail neighbors. A strong neighborhood is good for everyone on the block.
Payments as convenient as your c-store
This may be obvious, but people shop your c-store because it is convenient. Your business matches today's busy and fast-paced lifestyle. Set your attention on delivering a customer experience that caters to this lifestyle. To achieve this, your in-store technology must align with that lifestyle as well.
That said, you can't expect every customer to want the exact same experience. Customers want to pay in the way that is quickest and easiest for them. Some want to pay at the gas station and perhaps even want to order food from there. Others want to come inside to pay for gas and snacks in one transaction. The second set of group would spend more time at your store browsing through product aisle but still want to get out of the door as soon as they're ready to leave.
The differentiation continues in how customers us their personal technology to pay. You have customers who want to use traditional visa or master credit & debit cards, some may use their mobile wallets like G-pay, Samsung pay or Apple pay and few may want to your EBT options too. Catering to their payment method desires leads to increased loyalty.  Power to accept various payment options is essential to your business growth. Alberta Payments & Technology works seamless and accepts most forms of card payments.
Value Beyond Transaction
Many c-store owners aren't aware of the additional charges that can be levied by their payment processors. This can lead to bottom line losses. Hence, it is very important to have transparency when it comes to your statement. At Alberta Payments, we can help you understand these charges and also reduce them. We believe in full transparency – no hidden fees, no early termination charges. You would also experience dedicated & friendly customer service to address your business needs promptly.
Payment processing services offered by Alberta Payments & Technology makes buying experience simple & fast for your customers. We provide low payment processing rates and with next day fund availability. Our terminals are PCI & EMV Certified and compatible with most POS systems*
Call US today to speak with our sales team to find out how our payment processing services can help you get competitive pricing and take your business to the next level.